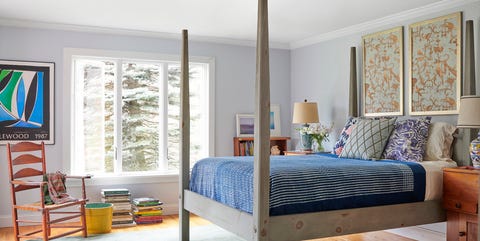 20 Ideas for a Stylish Guest Bedroom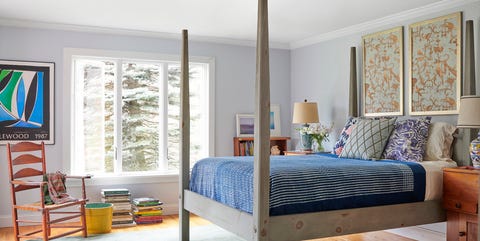 William Waldron
Guest bedrooms are so frequently the ugly ducklings in an otherwise attractive brood. What would happen if we gave these areas as much attention as say our living rooms or dining rooms? The designers in our pages are experts in this area—guest rooms for them are an opportunity for experimentation, usually with low risk. They can double as a reading room or office, serve as stylistic bookmarks, or deviate from the theme of the rest of the house. They can also be a refuge—or an escape—and house as many guests as you'd like, for however long you choose. Here are 20 great guest room ideas that will help you make your spare room anything but spare.
Advertisement – Continue Reading Below
1
Posts with the Most
Don't be afraid to choose a bed that packs a punch. In the guest bedroom of this San Francisco house, Antonio Martins used an 18th-century family heirloom as the centerpiece, covered in a reproduction of the family bedspread.
2
Room with a View
If your guest room has beautiful views, let those take centerstage. This bedroom had stellar views of Manhattan's Central Park, so designer Ariel Okin kept the palette light, with only a few pops of color to keep things fun.
3
Take a Seat
Every guest likes a little privacy. If space allows, don't hesitate to add a seating area to your guest room, like fashion designer-turned-decorator Carly Cushnie did with this bouclé CB2 loveseat in a TriBeCa apartment.
4
Get Funky
Use your guest room to experiment. In this Madrid home, design studio Casa Josephine juxtaposed a Castilian 18th-century bed with a 1970s globe lamp and mirrored cubes as bedside tables.
5
Out of Sight, Out of Mind
Every guest loves to have the space to actually unpack. Perhaps some under-the-bed baskets might serve as storage space, in lieu of a cabinet or closet? Fashion executive turned interior designer George Kolasa used the idea in the historic farmhouse he bought with his husband.
6
Vintage Glam
Use your guest bedroom as a time machine! In this Upper East Side apartment, design duo Husband Wife placed a circular bed in a corner bedroom.
7
Double Duty
Why not use your guest room as a sitting room when guests aren't in town? Here Jett Projects dressed a guest bed as a daybed, adding an armchair to facilitate conversation.
8
Get Ahead with Art
Use your art as a headboard! In this Montecito, California, home by Kim Alexandriuk a graphic painting serves as the headboard above a minimal, low-to-the-ground bed.
9
Keep It Classic
For the East Coasters out there, consider reinterpreting the idea of the All-American. In this Berkshires retreat, the homeowner mixed a Shaker-style chair with a lightly dyed pine four poster and an Indian coverlet. Call it "Americana Light."
10
Twins for the Win
Use your windows as guide posts. In this London apartment, Nebihe Cihan placed twin beds directly under twin windows, giving this guest bedroom a chic symmetrical feel.
11
Snug as a Bug
Utilize your nooks and crannies! The sitting room in this Paul Lamb–designed Austin, Texas, ranch's main suite could easily be recreated as a guest bedroom—just tuck a twin bed into an existing alcove and use the surrounding areas for storage.
12
Take a Risk
A guest bedroom is an opportunity to go way crazier than you usually would. In Perifio's first project, the design duo's own Hudson Valley home, they covered the guest bedroom in busy birdie wallpaper. It's not for every day, so why not take a chance?
13
Strong Accent
Accent walls can be more than just one solid color. In this bedroom Rodney Lawrence commissioned a large-scale mural based on Maurice Sendak's book Where the Wild Things Are.
14
Low 'n Beau
If you are lacking space but you thirst for drama, consider draping a low-to-the-ground bed with rich, over-large textiles. In this Connecticut Colonial home, Ryan Lawson added additional drama with a tin Mexican mirror above the headboard and kept further furnishings spare. The effect is bohemian and grand all at once.
15
All in One
Choose furniture with multiple uses. In this London townhouse, Thomas Hamel had custom cabinetry made to envelop the bed, while offering storage, nightstands, and a desk.
16
Amp Up Your Architecture
Accentuate the lines of the room. In this East Hampton, New York, home, Tim Godbold chose a mixed-media artwork that mimicked the diagonal lines of the vaulted ceiling. The effect is visually arresting enough to allow for muted tones and simple shapes to take over the rest of the space.
17
Inside Out
Especially in a vacation home, let the natural landscape outside lead your design brief. In this guest room, Tobias Petri chose the snow-covered Alps as the focus of the room. Light wood–clad walls and simple furniture make the space functional.
18
Stacks on Stacks
Who says the guest room can't be the most interesting room in the house? In a Greenwich Village apartment by Workshop/APD, guests can work in a lofted space just above their sleeping area.
19
Family-Friendly
Take familial intimacy into account. In Thomas Woltz's Virginia home, a Directoire daybed sits across from a large four poster—the perfect place for a young child to rest.
20
Show Off Your Art
Don't be afraid to hang your best art in low traffic areas. A piece by contemporary artist Jessi Reaves serves as the focal point in the otherwise minimal and muted guest bedroom of this shou sugi ban–designed Long Island house.
This content is created and maintained by a third party, and imported onto this page to help users provide their email addresses. You may be able to find more information about this and similar content at piano.io
Advertisement – Continue Reading Below
https://www.elledecor.com/design-decorate/room-ideas/g40644345/guest-bedroom-decor-ideas/