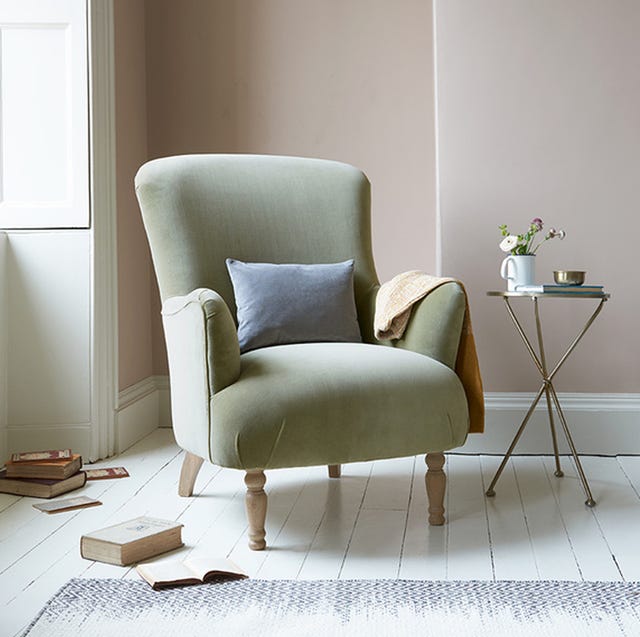 21 of the best small bedroom chairs for a country-inspired home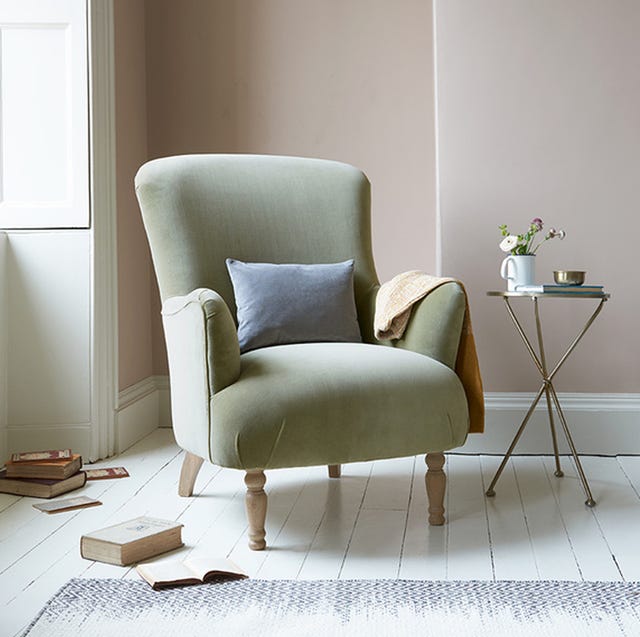 Left: Loaf, Right: Neptune
Multifunctional rooms are a gift in any household, especially if space is of a premium. And whilst our bedrooms should be used first and foremost as a sanctuary to escape the day to day, they are increasingly becoming a place to work, to read, and to unwind with Netflix of an evening.
If you use your bedroom in such a way, adding a small bedroom chair in an empty or underused corner is the perfect way to diversify your space, and create a peaceful zone to work or relax away from your bed.
Depending on the space available to you, a compact yet comfortable armchair, a neat swivelling tub chair, or a petite slipper chair (more on that below,) can become a spot from which to get productive, lose yourself in a good book, or just have some peace and quiet away from a busy household.
When it comes to organising your bedroom, there are many ways to make the most of your floorspace. If you have natural recesses, a floor-to-ceiling bay window, or empty areas next to a wardrobe or dresser, adding a small accent chair won't compromise on critical space for essentials like a bedside table. Those with ample room can use bedroom chairs to create a comfortable home office, or a reading nook by adding task lighting and piling on cushions and throws.
Whether you're considering plush velvet, a traditional buttoned back armchair, or a sleek mid-century design, we've collated the best small bedroom chairs to shop right now.
Advertisement – Continue Reading Below
1
Small bedroom chair – the space saver
Kirkwall Leather Club Chair – China Clay
This classic leather club chair from OKA with a buttoned back, brass stud edging and Ash wood legs would be the perfect choice if you are after a pair of small chairs to sit either side of a table. With a depth of just 63cm, it makes for a truly tiny addition to your bedroom.
2
Small bedroom chair – the little cocoon
Le Petite Armchair, Pale Rose
royaldesign.co.uk
£360.00
Petite by name, petite by nature, this clever design from Decotique is soft and cocooning without being cumbersome. Upholstered in an undyed, tumbled wool which gives it its textured and slightly deconstructed appearance, this piece is just 70cm in width making it the perfect small bedroom chair. 
3
Small bedroom chair – the high back armchair
Gramps Armchair
The Gramps is your go-to for versatility. A simple high back armchair, without the frills and fuss of buttons or studs, it is available in a choice of 151 fabrics to suit any design scheme imaginable. A high back with narrow arms is a brilliant choice if floor space is of a premium.
4
Small bedroom chair – the neutral base
Liang & Eimil Sylvia Occasional Chair
The Sylvia is a deceptively opulent occasional chair, with a frothy champagne upholstery, elegant sloping armrests and gold-toned feet. A slim silhouette – just 63cm in width – makes it easy to fit into awkward or narrow corners of your bedroom.  
5
Small bedroom chair – the patterned one
Country Living Charlbury Floral Armchair
Whilst possessing all the design markers of a traditional armchair; curved armrests, turned wooden feet, deep comfy cushions, the Charlbury is updated with a fun floral upholstery. The perfect accent piece for an underused a corner of your bedroom. 
6
Small bedroom chair – an armless solution
Abbey Armless Chair
The armless Abbey chair from The Cotswold Company offers a gentle nod to the irrefutable elegance of mid-century style. Whilst small in stature, some clever design features – the gently curved back, extra deep seat, and soft velvet upholstery – make this piece deceptively comfortable.
7
Small bedroom chair – deco luxe
Ritz Small Armchair
Ritz
swooneditions.com
£519.00
A tub chair is a wonderful option for tricky bedroom corners. This small Ritz Armchair from Swoon is compact without compromising on style, with an elegant deco design, rich colour way and textured upholstery. It is available in 14 different wool upholstery, and 17 sumptuous velvets. 
8
Small bedroom chair – the slim design
Mabel Armchair
The Mabel armchair has clever design features that make its outer shell compact, without compromising on seat space. With soft, clean lines, slim arms that gently slope from a high back, and tapered wooden legs with a small footprint, Mabel still offers a comfortable 53cm of seat space. 
9
Small bedroom chair – the midcentury one
Sofia Pink Chenille & Velvet Armchair
This Sofia chair from Oliver Bonas is deceptively sophisticated in design, with soft scalloped piping and panel detailing to the back and seat, curved arms that transition seamlessly into legs, and a lustrous chenille upholstery in a pastel pink. Its slim silhouette and dark wood frame nod to mid-century design, and make it a great choice for narrow bedroom corners. 
10
Small bedroom chair – for colour lovers
Munchkin Occasional Chair
The aptly named 'Munchkin' is a small bedroom chair with heaps of charm. A lovely attention to detail – small curved arms with neatly folded upholstery, decorative solid oak legs, and a soft rounded back – makes this a statement chair, albeit a compact one. Choose from 151 fabrics to make it just right. 
11
Small bedroom chair – the vintage one
Ola Green Velvet Tub Chair
This compact tub chair from Oliver Bonas packs a big design punch, with a mix of olive green velvet and neutral linen upholstery, dark tapered wooden legs and shiny gold metal feet. A circular silhouette makes it ideal for any awkward areas of your bedroom. 
12
Small bedroom chair – classic with a twist
Country Living Morland Stripe Accent Chair
Soft, clean lines and playful pinstripes makes the Morland accent chair appear compact and streamlined without compromising on comfort. This chair is deceptively plump, with premium foam-filled seat cushions made for lounging. Available in 6 plain and 6 striped upholstery options.
13
Small bedroom chair – the Scandi one
Dapper Armchair
The petite Dapper chair from iconic Danish brand, HAY, brings together industrial design and fine craftsmanship, with a wide, oak-veneered plywood backrest for comfort, and optimal elbow support for laptop work. This is the perfect piece for shallow corners with ample width, such as a bay window.
14
Small bedroom chair – for print lovers
John Lewis Fireside Armchair
When choosing furniture for a small bedroom, think vertically. Compact and classically styled, this John Lewis Fireside chair has been designed with a supportive high back and turned wooden legs. The playful Alda Monochrome upholstery makes it the ideal statement piece for a neutral bedroom. 
15
Small bedroom chair – the tub chair
Richmond Wool Tub Chair
thewhitecompany.com
£625.00
Made from solid hardwood and pure wool, the Richmond tub chair is unobtrusive despite its ample buttoned back cushioning. The armless design, sitting low to the floor with convenient castor legs makes this small chair a very versatile option for a bedroom. What's more, pure wool will stay cool in the Summer yet feels cosy in the Winter.
16
Small bedroom chair – the linen one
Aldona Jasmine Linen Armchair
perchandparrow.com
£550.00
This linen chair uses the principles of mid-century design to create a slim and unobtrusive silhouette. Don't be fooled by the solid frame however, with a textured linen finish, and plump seat cushions and backrest, this is a chair for lounging. And at just 63cm in width, it's perfect for small spaces. 
17
Small bedroom chair – the playful stripe
Polperro Armchair – Blue
The playful Polperro chair by OKA has a chameleon-like ability to sit in an elegant bedroom in the countryside, a beach house in Cornwall or a log cabin in Scotland. Upholstered by hand in 100% linen with oak wood legs, this small chair takes up just 74cm of floor space wherever you choose to put it. 
18
Small bedroom chair – the slipper chair
Madeleine Chair
Slipper chairs, like this small Madeleine chair by Neptune, got their name during the Victorian era, when they were used by women as a perch whilst putting on shoes or slippers. The armless shape makes them easy to tuck away into small corners, ready for when you need them.
19
Small bedroom chair – rattan twist
Emmeline Olive Green Velvet Armchair
atkinandthyme.co.uk
£499.00
This narrow Emmeline chair from Atkin and Thyme has a curvaceous Art Deco design, with innovative cane armrests and a lush olive velvet upholstery. This chair would be perfect for bedrooms with narrow recesses with ample depth, such as the empty space next to a dresser. 
20
Small bedroom chair – the classic
Country Living Charlbury Plain Accent Chair
A classic bedroom chair, usually found under piles of clothes we neglected to hang in our wardrobes…But, with softly curved armrests, turned wooden feet, and deep comfy cushions, this chair was made for lounging, too. 
21
Small bedroom chair – a leather take
Crescent Leather Swivel Chair
This neat leather swivel chair takes up less than 80cm of floor space, whilst packing a considerable design punch. A contemporary update to the classic drum chair, the wraparound silhouette is pleasingly cocooning, and great for TV viewing and easy conversation. The swivel design makes it perfect for the corner of a bedroom. 
This content is created and maintained by a third party, and imported onto this page to help users provide their email addresses. You may be able to find more information about this and similar content at piano.io
Advertisement – Continue Reading Below