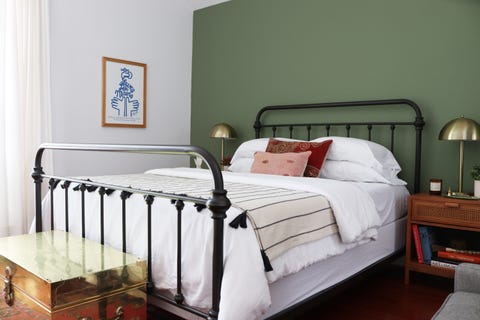 5 Interior Design Trends For Summer 2021
Green kitchens, tactile textures and curved designs are among the hottest interior design trends for summer 2021, according to renovation platform Houzz.
Whether you're switching up your space or on the hunt for decorating ideas, let these styles, designs and trends inspire you. To help you make your dream home a reality, Houzz.co.uk editor, Amanda Pollard, has taken a deep dive into what's trending — and there's something here for everyone.
1. Natural colours and materials
Bring the outdoors in by tapping into a colour palette loaded with natural shades and materials. The world may be reopening again, but our love of the great outdoors and stillness is going nowhere. In fact, Houzz predicts a surge in earthy tones, tactile textures, and comforting colours such as peach, beige and warm browns.
Green is also tipped to make waves this summer, overtaking navy blue as one of the hottest hues. 'It isn't just kitchens that are getting the green treatment though, as the search terms "green bathroom", "green living room" and "green bedroom" have all increased on Houzz since 2020,' says Amanda.
2. Curves
Bring smooth character to your home this summer with curves, curls and bends. Over the past few months, Houzz has reported an uplift in rounded furniture, curled kitchen islands and unique-looking archways. Fluted designs in particular are expected to be a key trend, so keep your eye open for these.
3. Making space
According to Houzz, less homeowners are searching for open-plan living ideas, but turning their attention towards internal glass doors, room dividers and pocket doors instead. No doubt the pandemic has forced many of us to reassess how we live and use our space.
4. Outdoor living
With a spike in outdoor living ideas – and garden furniture shortages– we're not surprised to see the interest continue to surge. For summer, it's all about bringing cosy furnishings outside such as rugs, garden sofas, layered cushions, and cosy heaters to add warmth.
'This is echoed in the types of projects homeowners are enquiring with pros about, with landscape contractors and landscape architects seeing a surge in interest in January, up by 116 per cent and 76 per cent, respectively, when compared to the same period last year,' adds Amanda.
5. Wall panelling
Wall panelling — one of 2021's top DIY trends – is certainly high on the agenda for summer. 'Homeowners and designers are adding character by attaching panelled surfaces to walls and cabinets,' notes Amanda.
'The term "panelling" saw a 48 per cent rise in searches on Houzz this year, and there are plenty of creative projects featuring the idea on the website. From traditional mouldings to subtle tongue and grove or more modern linear cladding designs, there's a style to suit every home.'
Follow House Beautiful on Instagram.
---
This content is created and maintained by a third party, and imported onto this page to help users provide their email addresses. You may be able to find more information about this and similar content at piano.io