Boho bedroom ideas – 10 easy ways to create a relaxed vibe
The key to boho style is that interiors feel relaxed, laidback and effortless. There are no hard and fast rules to follow, it's more a matter of going with what looks right and feels right, especially when it comes to boho bedroom ideas. 
Forget brash brights and overly-styled spaces, boho style is all about relaxed colours, tactile textures and an easy-to-live with decor. Free-spirited and eclectic, 'boho' style can be tricky to define, with influences that range from hippy chic and vintage to Eastern and Moroccan-inspired, but having the freedom to mix and match as you please is all part of its charm. So if a relaxed vibe is what you're after when looking for bedroom ideas, this one's for you.
Boho bedroom ideas
'The boho look is one that's dominating home interior trends in 2022, and is perfect for those wanting to achieve a laidback vibe that enhances wellbeing and mindfulness,' says Lucy Mather, styling expert at Arighi Bianchi.
'People are placing even more focus on how their homes can support wellness and mindfulness rituals. We want to be surrounded by natural materials and calming neutrals. And demand for boho-style looks has never been greater.'
1. Start with a soothing backdrop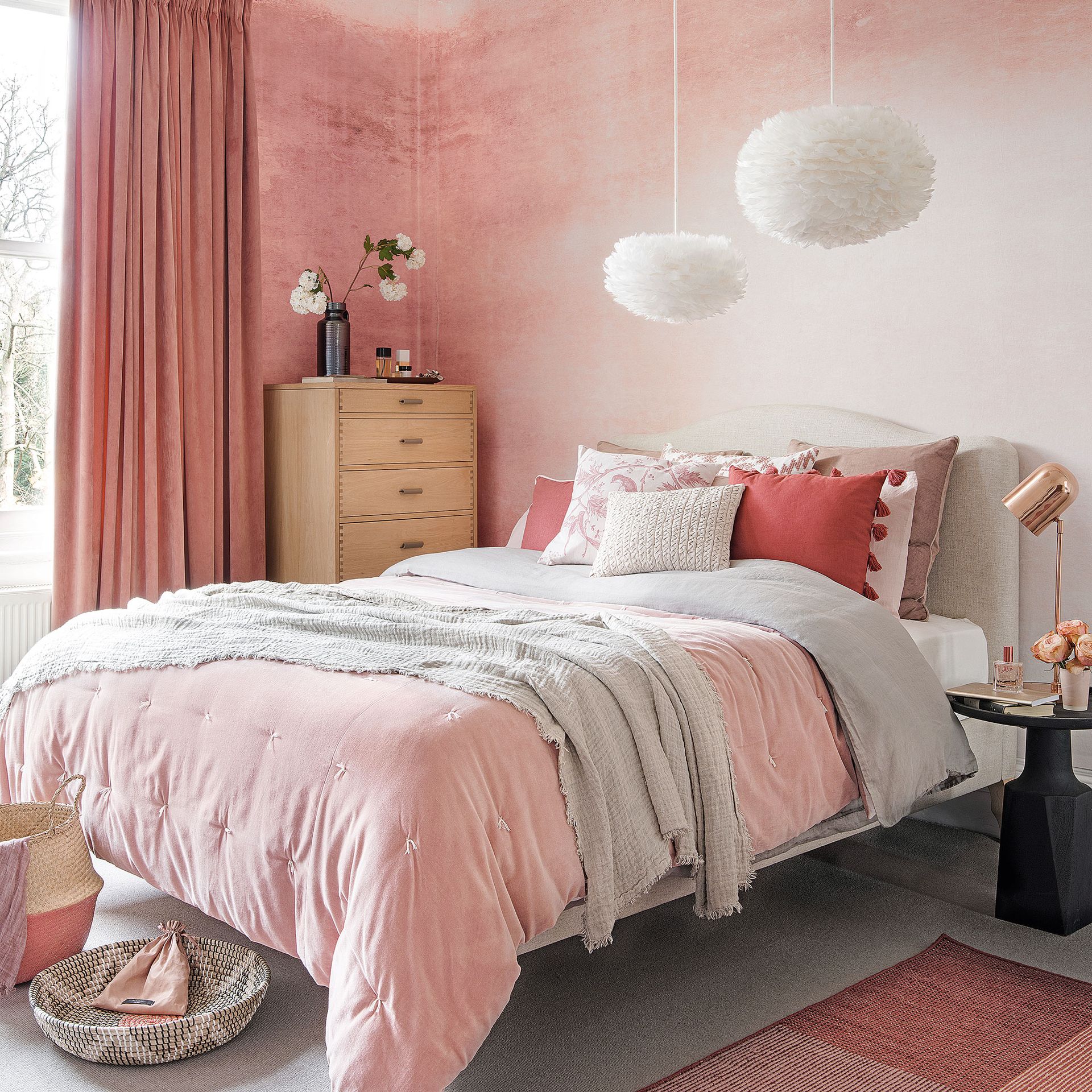 Choose background colours that don't fight for attention to create a relaxed and restful boho scheme. Warm, blush pinks and earthy terracottas will bring calm to a master bedroom ideas and work well as a backdrop to more decorative pieces and layered patterns and textures.
Give neutral walls a wash of soft coral or warm terracotta to create the look of roughly plastered walls. Or opt for a faux-finish wallpaper to give a subtly textured finish and rosy glow. Add a quirky finishing touch with a pair of feathery pendants floating low over the bed like clouds.
2. Work in one-off pieces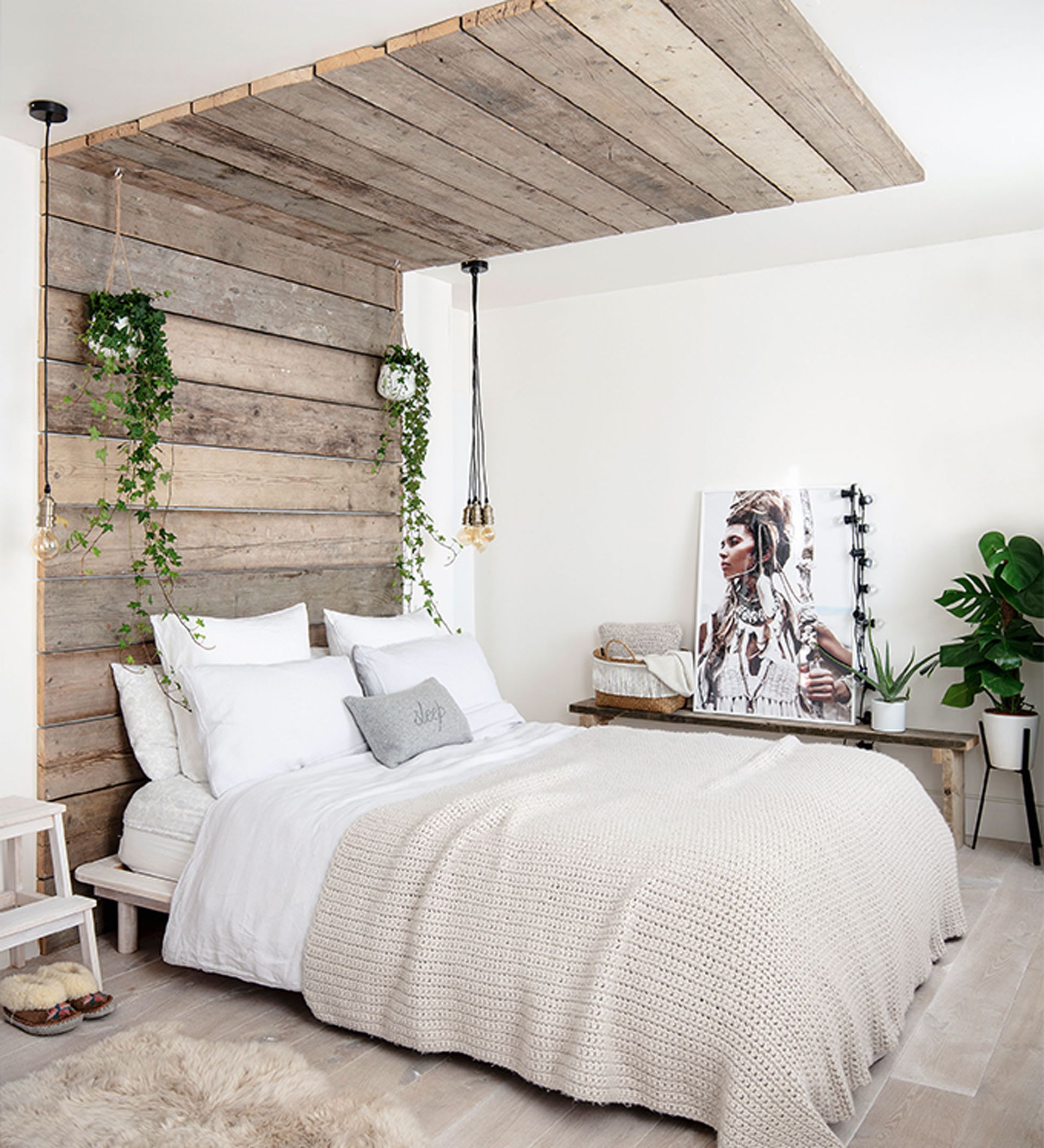 Individuality is key with boho style, with hand-crafted elements and quirky one-offs so that no two rooms look quite the same. Swap a standard-style headboard for an upcycled design made using reclaimed timber cladding on the wall and ceiling, both above and behind the bed.
A wrap-around headboard like this one creates a cosy vibe and makes the bed the focal point of the space, so that little else is needed around the rest of the room. Add in the best mattress, and the bed is the star of the show. Leave timber raw and untreated to add a rustic element, with hanging greenery to soften the mood a little.
3. Choose calm neutrals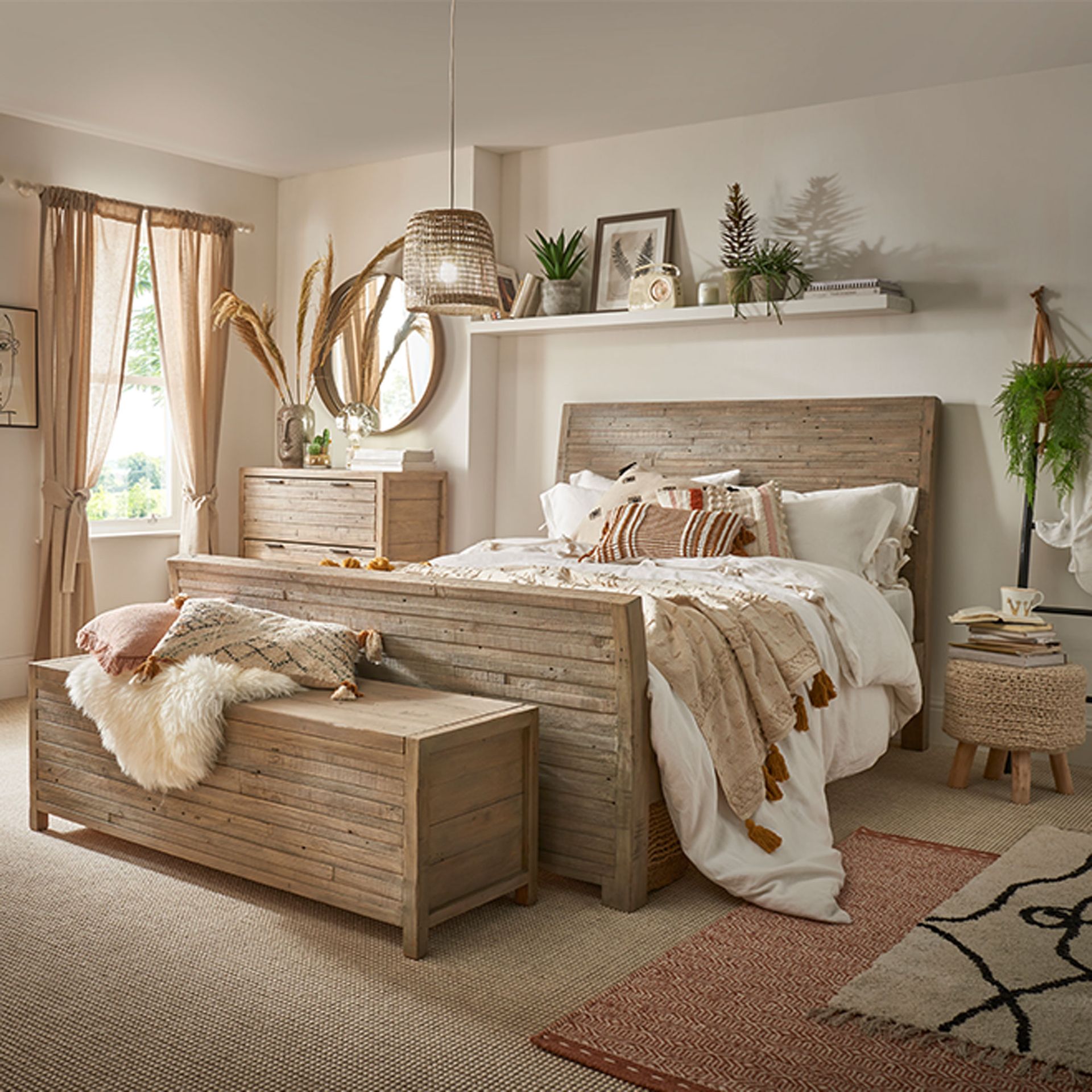 Neutrals make a restful backdrop that is an easy starting point in a boho scheme. Paint walls in warm-whites and soft creams to add calm, with sheer voiles, linen drapes and calico panels at windows. 
Decorative elements are key, so turn attention to the bed and make this your focal point with patterned bedspreads, pillows, cushions and throws in an eclectic mix of patterns, tactile knits and macrame weaves. Fill shelves with plants and trailing greenery to add lush colour here and there.
'Soft neutral colour palettes, natural materials and fabrics, layered textures and boho-inspired patterns are combined to create a relaxing retreat; the ideal space for a morning meditation or a leisurely Sunday lie-in,' says Lucy Mather. This bedroom design tip for better sleep is definitely one to work into your scheme.
4. Try easy denim blues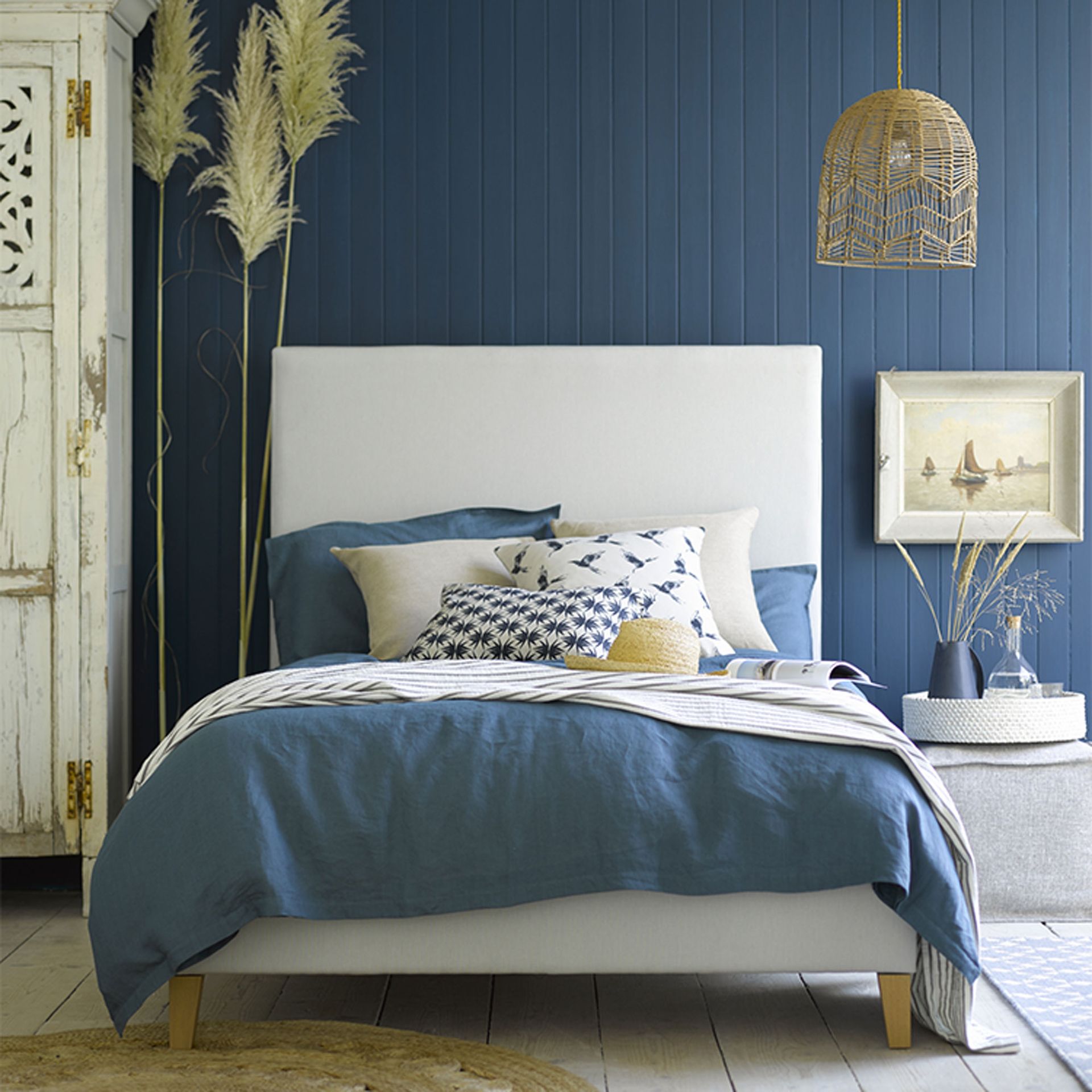 Just like a great pair of jeans, denim blues look relaxed and comfortable in any setting, so blue bedroom ideas are the perfect fit for a boho bedroom. Choose your shade, depending on the look you want to create, whether casual and well-worn in faded chambray and washed linen or smart and grown-up in inky indigo and dark dip-dyes.
Work in plenty of rustic, natural textures to offset flat blue tones and add richness and warmth in a bedroom, from woven basketware, bamboo and wicker to natural floorings like sisal, coir and rush matting. Then pile up the bed with linen blues in a mix of ticking stripes and checks, ikats and motifs.
5. Be inspired by the shore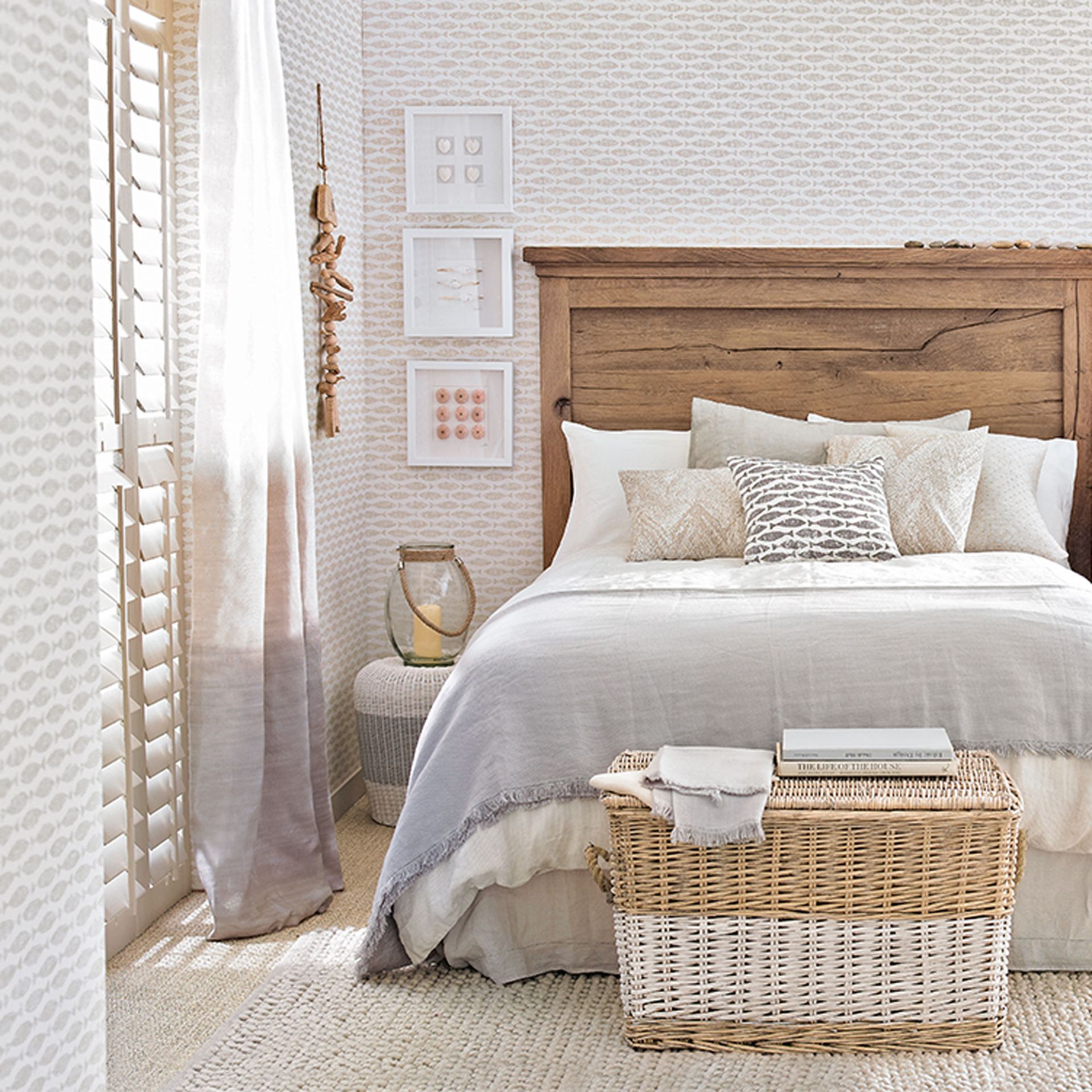 Mix beach and boho to create a laidback look that will bring holiday vibes to your bedroom all year round, from small bedroom ideas to larger spaces. Instead of nautical blues, keep to relaxed neutrals to pull-off this style, opting for sun-bleached textiles, soft shell pinks, rustic timbers and weathered driftwood pieces.
Dress windows with shuttered blinds and floaty sheers to create a room that feels light, breezy and energising by day, but cosy and cocooning at night. And keep coastal motifs to a minimum to avoid an overly-themed look, think surf-shack rather than seaside.
6. Bring a colour-happy vibe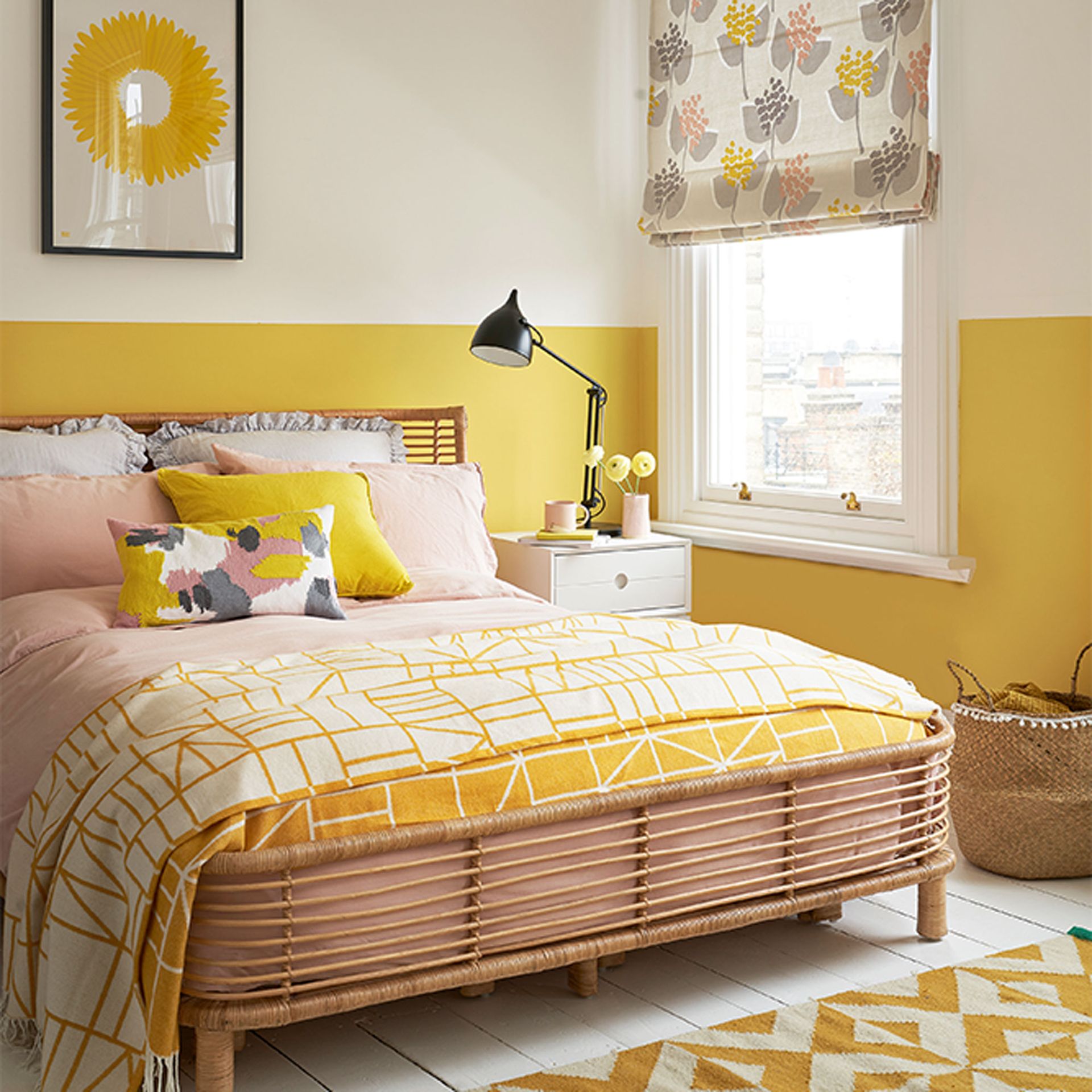 Opt for a cheery colour combo that will bring a splash of sunshine to a light-starved space. A great mood changer that's perfect for a bedroom, sunny yellow is an upbeat colour to wake up to, that mellows throughout the day into a relaxing golden glow in the evening light.
Instead of opting for yellow wall-to-wall, try painting walls halfway, with white on the upper section of wall and sunny yellow at the bottom. Having the darker colour on the lower section will provide more of a contrast backdrop for bed and bedlinen. Use florals and geometric prints with accents of blush pink and black to give a sunny boho bedroom a more grown-up edge.
7. Take a cue from far-flung sunny locations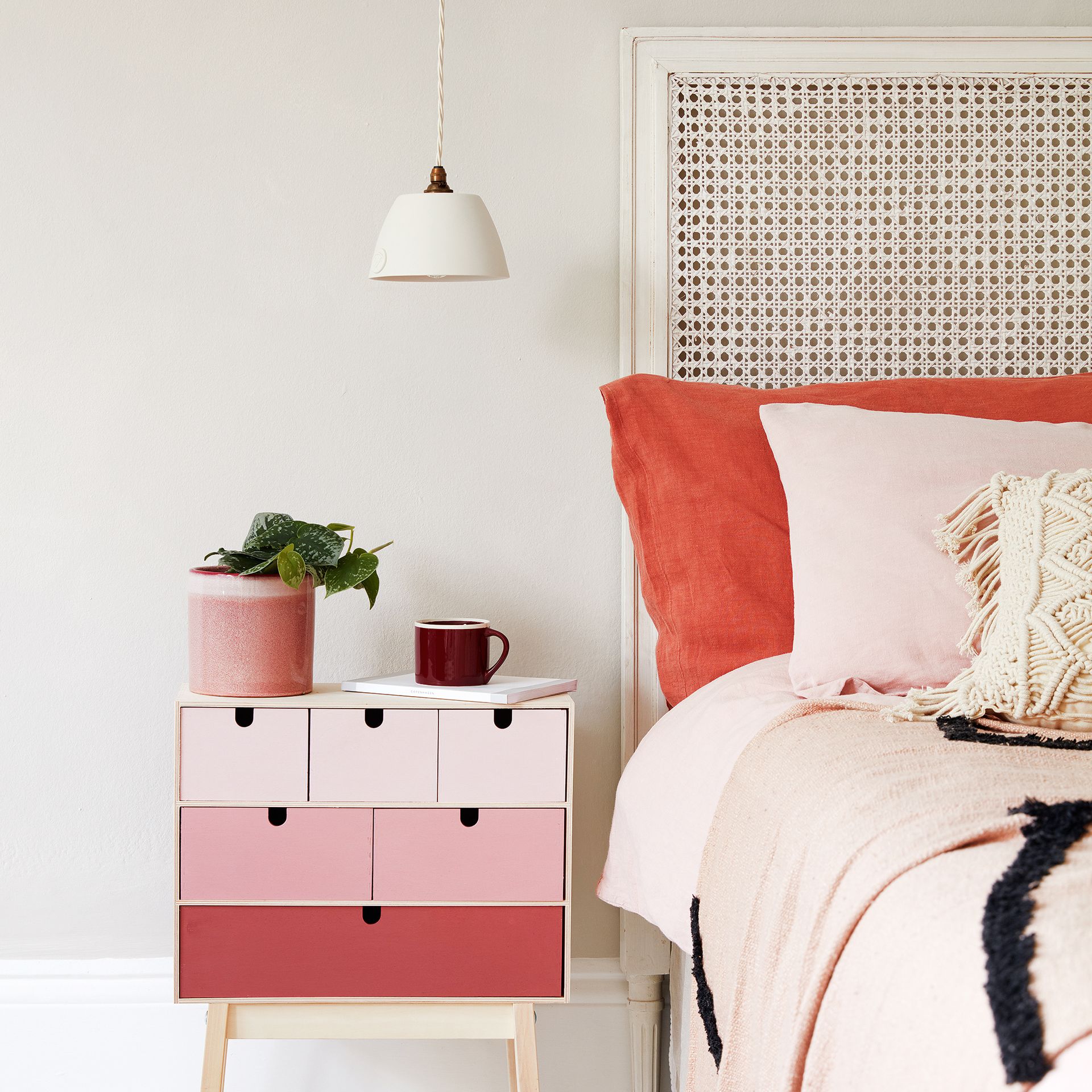 Be inspired by sunny climes and create a chilled-out scheme with an Ibiza beach-house feel for a modern bedroom idea. Warm, spicy colours against a cool, calm backdrop of whitewashed walls and pale stone floors set the mood for this look.
Furniture is relaxed and eclectic with shapely bamboo, woven cane and tactile rattan weaves in either white washed or warm honeyed tones. Make the bed the focal point with a statement headboard, and stacks of richly coloured cushions.
8. Create a cool hangout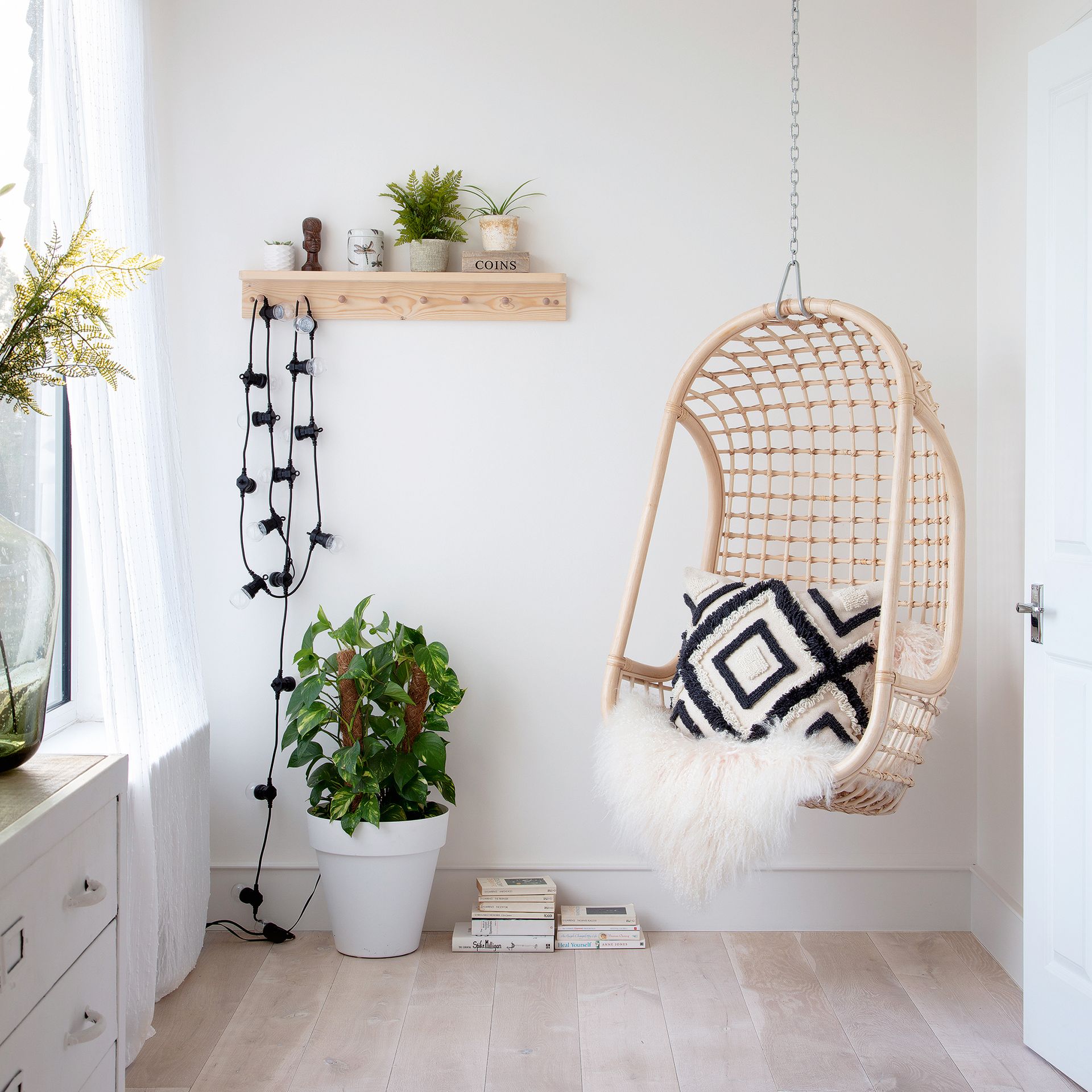 Add some hippy chic with the ultimate boho accessory. Much-loved in the seventies, a hanging chair embodies this free-spirited look perfectly and makes a fab style statement in the corner of a bedroom.
Perfect for a relaxed reading nook or lounging spot or even a guest bedroom idea, opt for a hanging chair suspended from a chain that can be secured to a sturdy ceiling joist, or try a free standing hanging chair that comes complete with its own stand. Just pile on the cushions and throws to make it extra comfy.
9. Layer up for warmth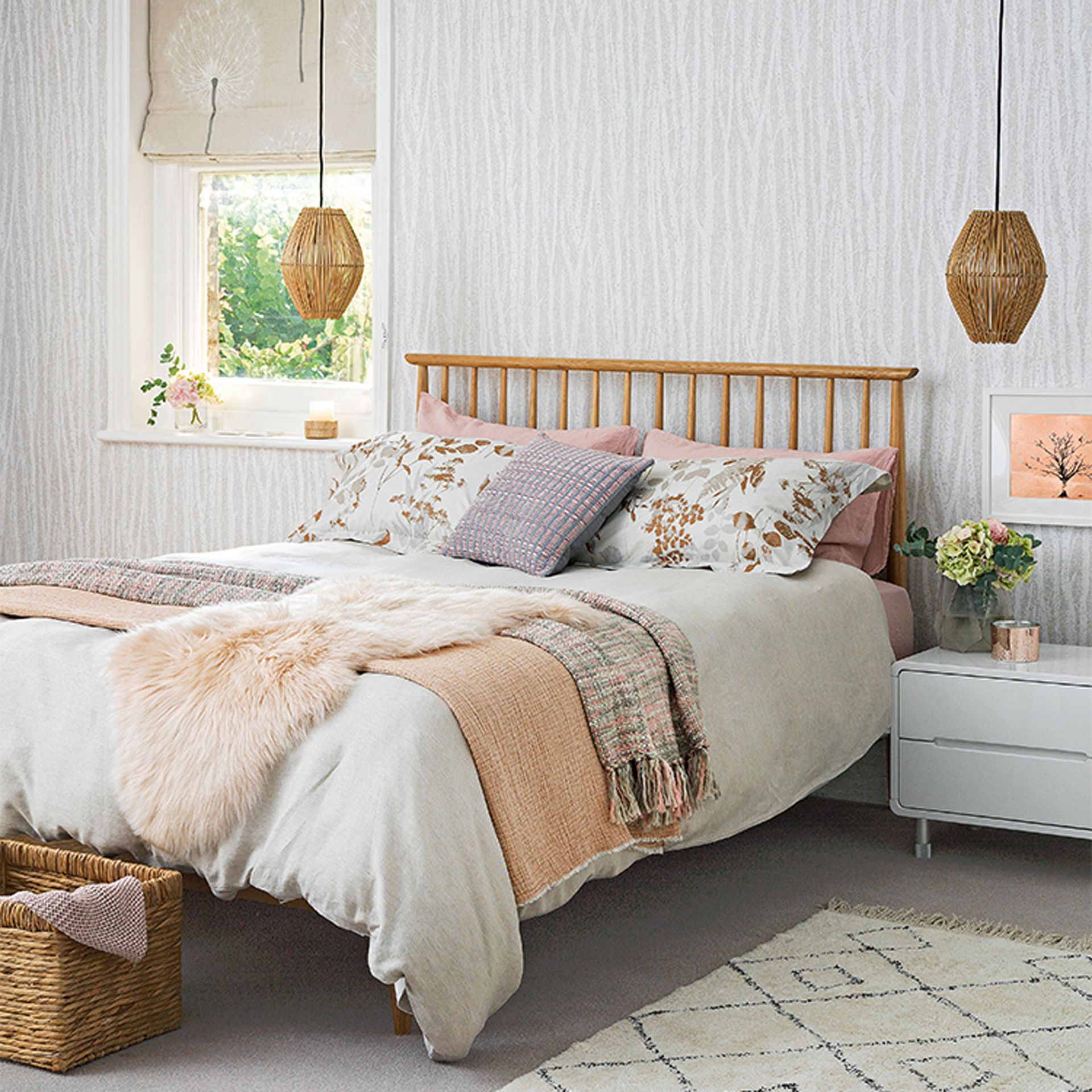 While boho style is perfectly suited for relaxed summer bedrooms, cosying up sleeping spaces for the cooler winter months is easy enough to do. Layers are key, so focus on piling up the bed with soft knits, tasselled throws and plush faux furs.
Keep lighting soft and low-level with bedside lamps or wall lights to give a more subtle, flattering glow than harsh overhead lighting. Try hanging pendants low either side of a bed for a chic look which will free up bedside table space too.
10. Channel East Coast style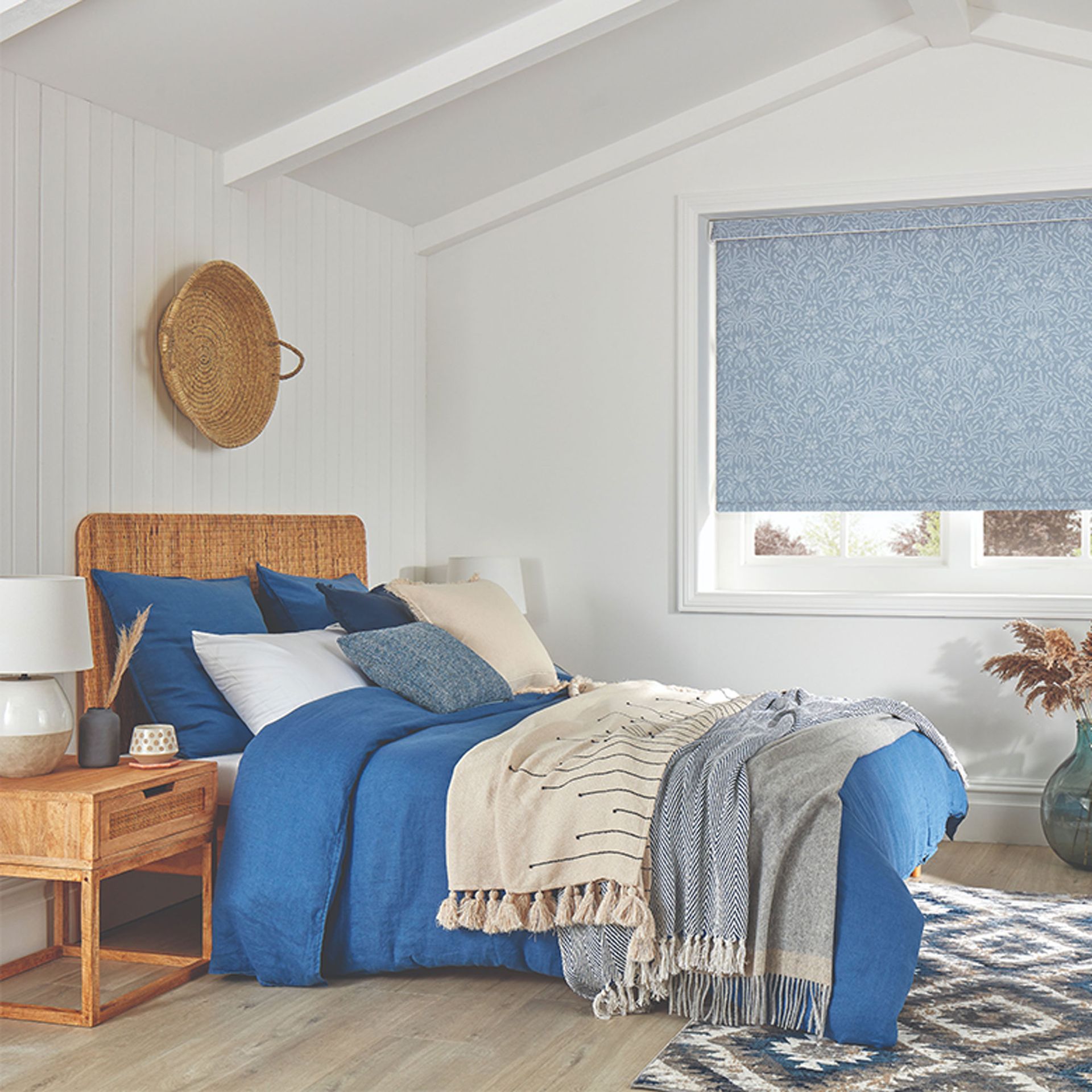 Create boho beach-house style using a relaxed bedroom colour scheme that takes its inspiration from the coast. Bring in plenty of sea blues, dip-dyed denims and chalky chambrays on bedding, blinds and soft furnishings. Set these cool blues against warm-toned rattan weaves and woven canework that will help take off any chill.
Timber panelling in soothing greys or restful white creates a calming backdrop and beach-house vibe. While weathered wooden decking feels tactile against the toes and is cosied up with scatter rugs and fleeces.
How can I make my bedroom boho?
The key to boho style is creating a look that is individual and eclectic and that showcases your own personality. Be inspired by bedroom schemes online and in magazines when choosing colour palettes and looking for decor ideas, but try interpreting these looks in your own unique way to create more of a one-of-a-kind look and characterful space.
How do you make a cosy boho bedroom?
A bedroom that feels cosy, calming and tranquil makes the perfect escape at the end of a long day. While boho style is all about mixing patterns, colours and textures, the key to making it work in a bedroom is keeping to calming tones and soft shades that feel soothing and easy on the eye. Make your bedroom extra-cosy over the cooler months by bringing in extra layers on the bed, with warm knits, macrame throws and cosy faux furs and fleeces to keep winter chills at bay.
https://www.idealhome.co.uk/bedroom/bedroom-decor/boho-bedroom-ideas