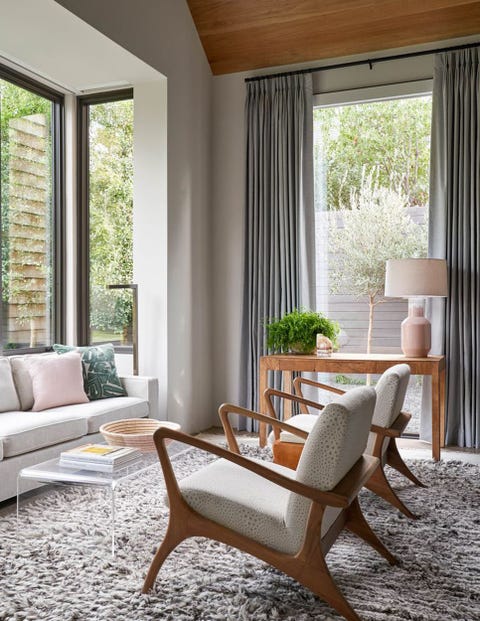 Erin Sander Designed This Family-Friendly Dallas Home with an Eye on Clean Living
When Texas custom home builder Ben Coats was contemplating the finishing touches for his own Hamptons-style home in Dallas's coveted Bluffview neighborhood, he knew the interiors needed to resonate with both the architect's design and his young family's lifestyle—and then some.
"It's like when the cobbler's kids don't have shoes, and you finally get around to making them, you're going to do something really special and different," explains Coats. "I had the same feeling when I built our home—above everything else we wanted it to be unique." After consulting with interior designer Erin Sander on another client's property, the second-generation builder—and owner of Coats Homes—hired the Dallas-based designer to deliver on his family's vision.
With five young children to consider—ranging in age from 4 to 10 years old—Sander's first of three priorities was to create a livable space that would be comfortable for the young family on a daily basis. The designer began by choosing a color palette forgiving to kids, then layered in plenty of casual elements with "some great high and low moments." The second thing to consider was that it needed to be something of a showplace. "Ben needs to use his home as a calling card for his business," says Sander. "They're also into clean living—from the food they eat and cleaning products to their [overall] environment—so I had that to consider as well."
"It's next level," Coats says with a laugh. "Our passion is clean living, so it was important that we used all-natural materials as much as possible." While untreated, unstained cedar shingles cover the home's exterior, polished concrete, locally-sourced white oak and native post oak—also unstained—present a natural, soothing feel inside. "These materials wear a lot better, and we wanted the house to be a little rugged that way."
Understanding that healthy, green living and natural elements don't have to mean 'playing it safe', Sander not only accepted the homeowner's challenge, but exceeded the entire family's expectations. Here's how she did it.
---
Great Room
A custom-built, steel-clad marble floating fireplace separates the family's main gathering space from the dining room. "The custom bench serves as the hearth—it's a place where the family gathers in the evenings to read or relax," says Sander. Mixed wood chair: Palecek. Orange chair: Hickory Chair. Bench: Lee Industries. Side table: Stahl Band. Console table: Made Goods. Woven stool: Palecek. Light fixture: Modish Store.
---
Entry
Polished concrete floors throughout the home add a modern edge that informed the decision for the deep, richer colors of the leather sofa, orange upholstered side chairs and stump side table. "The family is really into green living, so on one side of the home's floor-to-ceiling glass entry we created a living wall and had a custom ceiling-height mirror built to reflect the greenery," explains Sander. Sofa: Scout Design Studio. Ottoman: Lee. Rug: Loloi. Rattan chairs: Urban Outfitters.
---
Dining Room
Easy livability was important for the family of seven. "The large organic live-edge walnut dining table was a very tricky custom piece that we sourced out of Canada," explains Sander. "It had to accommodate the entire family—and guests." Dining chairs: Chairish. Lighting: Stahl and Band.
---
Breakfast Nook
For this additional spot where the family gathers in the morning, Sander designed the custom floating white oak bench with cast concrete brackets. Hanging above is an ebonized driftwood light fixture. Table: Custom. Light: Stahl and Band.
---
Kitchen
Perfectly organized as it is sleek, this airy space is constantly in use. "We designed the millwork with integrated handles, and of course there's plenty of storage," says Sander. Selecting the Paratinga Quartzite for the counter and backsplash offered the look of a marble but the strength and durability the family needed. Barstools: Lostine.
---
Mudroom Bath
Just off the mudroom, the couple included this full bathroom with easy backyard access in the event they decide to put in a pool. Sink: Kast. Light: Tudo and Co. Wallpaper: Bo Thorton.
---
Wine Bar
Clad in the same steel used for the fireplace, this wet bar and wine storage cabinet is a sweet spot for preparing drinks for friends and clients.
---
Powder Room
With five children, two adults, and a constant stream of visitors, there's no shortage of bathrooms. Sink: Stone Forest. Fittings: Watermark.
---
Office
Multi-purpose spaces were key in the home's design; this room serves three functions. "Ben can bring his clients here for formal conversations after touring the house, and it's also where the family can pile on the sofa to watch TV," adds Sander. "The sectional pulls out into a bed, and an adjoining full bathroom makes it a perfect guest suite." Sofa: Custom. Coffee table: Scout Designs. Light: Pablo Designs. Rug: Stark. Television: Samsung.
---
Office Powder Room
This all-purpose oak-paneled bathroom off the office has special doors that close to separate it from the rest of the house and allow it to become a private guest bath when the family has company. Sink: Kast. Sconce: Urban Electric.
---
Primary Bedroom
Disconnected from the public spaces by a hallway for maximum privacy, this space is an airy retreat for the busy couple. Bed: Anthropology. Nightstands: Custom CEH. Rug: Loloi. Lighting: Brendan Bass. Bell art: M Quan Studios. Sofa: Custom. Chairs: Vintage.
---
Hallway
A custom window seat with hidden storage lines one wall, while ribbon-like wood veneer light fixtures illuminate the way to the homeowner's personal sanctuary. The polished concrete flooring helps reflect light from a nearby window. Lighting: LZF Lighting.
---
Primary Bathroom
There aren't many areas in Dallas where you can have a strong connection to nature—but this space is definitely one of them. "Outdoor showers aren't necessarily unique if you live in Malibu—but they are for Dallas," explains Coats. "We custom built this steel shower that protrudes from the house, so you feel like you're outside."
---
Kids Rooms
Designing shared bedrooms for the children was a priority, so Sander fashioned bed walls that offered some privacy and left plenty of floor space to play. "It was important that the kids have lots of flexibility in their space for creativity."
---
Nursery
What served as a nursery—and could again—now has twin beds and lots of open space for the kids to enjoy sleepovers with friends. Wallpaper: Lulie Wallace.
---
Secondary Bathroom
Adjacent to the girl's bedroom, this full bath features what Sander calls a "fresh and fun" mint-colored vanity.
---
Playroom
"Having this flex space has been tremendous for them," explains Sander. "Not only has it served as a place for homeschooling during the pandemic, but it's another place the kids can break off to play."
---
Patio
"We essentially inverted the palette by bringing the teak wood flooring—seen in the primary bathroom—to the exterior and placing the polished concrete indoors," says Sander. "Often you have the wood tones overhead, but here we've put it under-foot." The patio wraps around the house, providing great opportunities for the parents to entertain and the kids to play. An additional sunken seating area off the dining room offers extended entertaining space. Concrete fire box: Custom by Brian Sarche. Coffee table: Custom Teak. Pillows: Kufri. Seating: Client's own.
---
Follow House Beautiful on Instagram.
This content is created and maintained by a third party, and imported onto this page to help users provide their email addresses. You may be able to find more information about this and similar content at piano.io