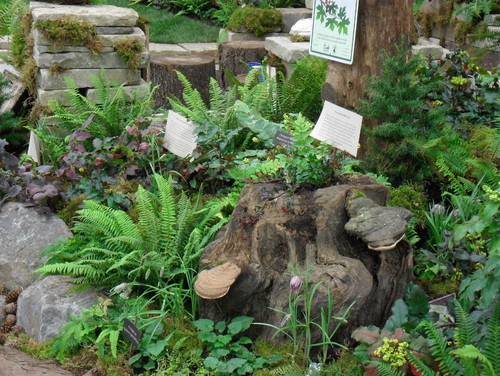 Stumps, Moss, Mushrooms? 8 Strange Garden Trends To Try This Spring
Have a sad stump on your property? Or a pile of rocks? You may not believe it, but you've got the makings of some unusual garden features.
Rather than struggle with seeds and finicky flora, you can actually cultivate beauty by using what's lying around your yard. Not only are some of these garden ideas earth-friendly, but many are also super hands-off, making them ideal for a lazy or newbie home gardener. And a few are kinda far-out, which means you'll be the talk of the block!
Here's some inspiration if you're looking for an unusual way to amplify your backyard.
1. Stumpery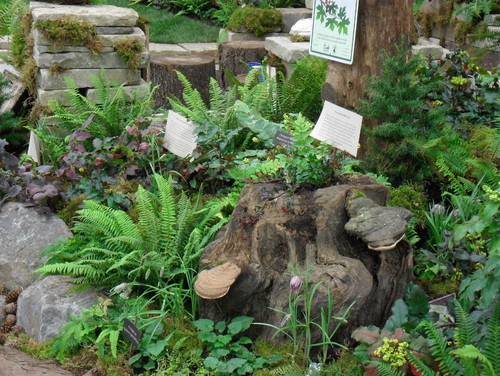 If you're looking for the ultimate in eco-friendly gardening, a stumpery is for you. This lesser known garden approach takes fallen, dying logs and makes them into something beautiful again, explains Emma Lam, owner and lead designer at A Small Green Space.
"As the stump breaks down, it creates a little ecosystem all on its own, and that in turn feeds and nourishes your garden," Lam explains.
And you'll be creating a habitat for insects that birds love to eat, adds Susan Brandt, the pro green thumb at Blooming Secrets.
"Small mammals, lizards, and frogs can seek shelter in a stumpery, and colorful mushrooms may eventually grow on the wood and add character to your garden," Brandt says.
To make your own, try planting annuals or ferns in the cracks and crevices of your old logs.
"We've often planted ferns in stumps that are breaking down, and they always look fabulous," says Lam.
2. Pocket garden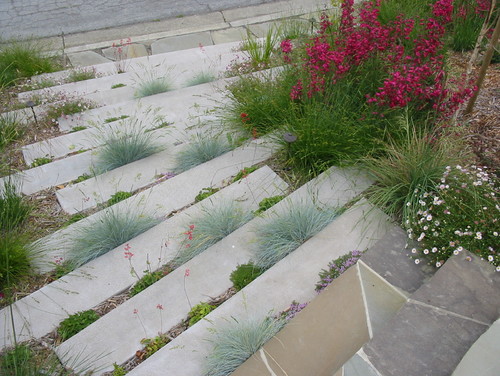 Photo by Huettl Landscape Architecture 
This sweet little nook is just what it sounds like—a flash of green in an otherwise barren or hardscrabble spot. A pocket garden adds color and texture to a small section of soil tucked along a driveway, stone wall, or set of steps.
Lam's business mostly focuses on pocket gardens in urban areas, with some of her work measuring just 12 inches deep and a couple of feet long.
"The key is to look for greenery that'll fit these cracks or small beds, so shop for the dwarf variety of plants when you're at the nursery or farmers market," she says.
3. Tree orchids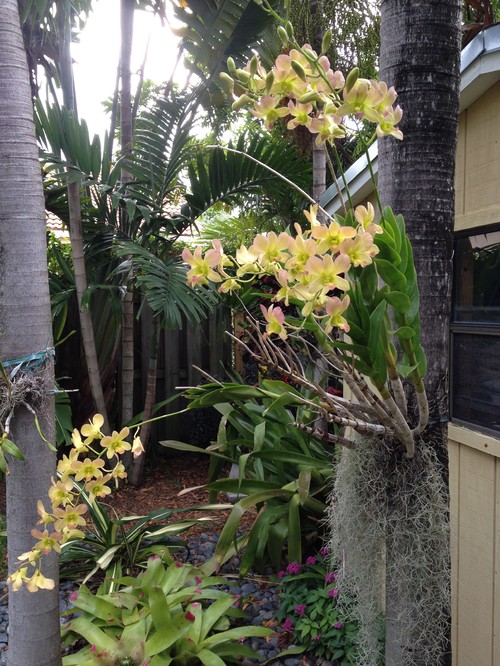 Floridians, Hawaiians, and homeowners in Southern California live in the ideal clime for grafting their orchids onto trees with simple plastic ties or cotton string. When you notice root activity at the bottom of your orchid (usually when you're repotting it), simply put the plant directly onto a tree trunk and secure it, says Brandt.
"By living attached to a tree, orchids get the light and shade they need, and when it rains, excess moisture runs down the tree and doesn't cause root rot in the orchid," she explains. In fact, tree living is better for your orchids, if your temperatures allow it.
"Because of wind circulation, it's less likely that fungus or bacteria will develop in the orchid's crown," she adds.
4. Mossery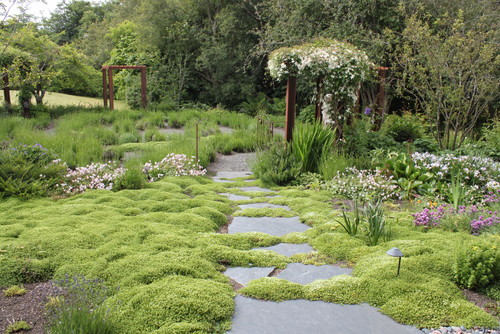 Photo by Island Gardens Company 
If you have a good bit of shade and would be happy to mow your yard a whole lot less, look into a mossery. A moss garden can take the place of a lawn and uses much less water than traditional grass. Moss needs direct contact with the soil to thrive, and it can be transplanted from woodsy areas on your property or purchased from specialty nurseries.
To establish moss, you'll need to water daily for the first two months, then three times a week in Month 3, then once a week in Month 4. Thereafter, moss is rather drought-tolerant and needs H2O only when there's been no rain for three or more weeks.
5. Rockery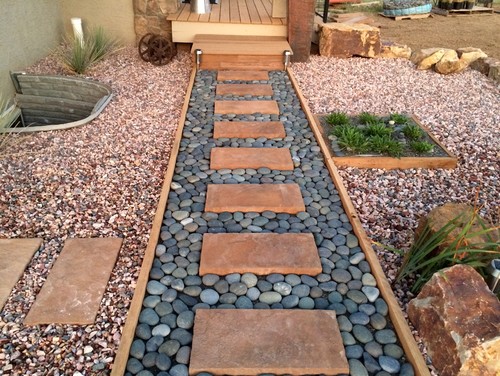 Photo by Above The Grade Landscape
Black thumbs and penny pinchers flock to rockeries as they use few actual plants and you can often find all the rocks you need right on your own property. You can arrange small boulders and found stones in any design you like, and then supplement with store-bought pebbles for different texture and color.
As for rock garden plants, let your climate guide you.
"We recommend coast dudleya, which is a succulent, and chaparral yucca because they like rocky soil and can take a little heat," says Isara Ongwiseth, lead designer at FormLA Landscaping.
Strategically placed rock gardens can act as aesthetic landscape designs as well as protective elements.
"Dry rivers and rock-filled bioswales can direct water and feed the rest of your garden by ensuring it can absorb rainwater," he says.
6. Vertical garden
Limited space in urban areas is the main practical reason behind the popularity of vegetable vertical gardening. Your only concern here is getting enough sunlight—other buildings and balconies may block your efforts.
"If you have mostly shade conditions, you can still grow lettuce, cabbage, and greens; but if you get lots of light, focus on tomatoes, peppers, beans, and carrots," says Brandt.
A vertical garden can be hung on a patio or porch wall or attached to a fence or trellis. Hang pots in rows, putting the ones that need more water below those that prefer drier conditions—this way, the lower level will get the runoff water.
7. Aqua garden
Aqua gardens focus on growing plants that flourish in water—and you don't need a full-on pond with lily pads to pull it off. Aqua garden kits abound and are a great way to add greenery as well as a soothing burble. This one is a bit pricey ($160, Amazon), but it's the complete package as it comes with the plants, a pump, waterfall light, and two kinds of rock filler. Its compact size makes it an ideal addition to a small patio or city deck.
8. Mushroom garden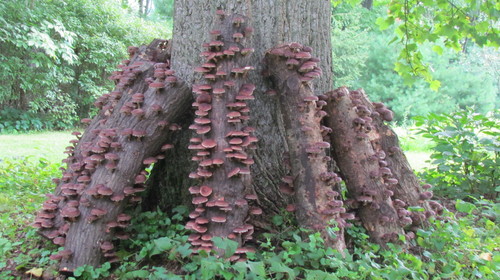 Mushrooms are no longer just some fungi you stumble across during a hike. An explosion of mushroom kits now allows homeowners to propagate 'shrooms in their yards, and harvest them to eat. Probably the easiest for beginners are shiitakes, if you have some shady spot for a log where they can grow. Plus they look pretty darn cute. Here's more on how to grow mushrooms.