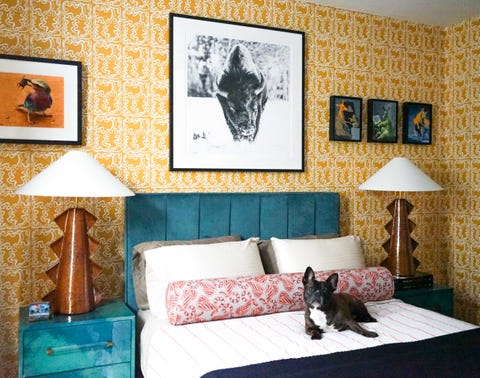 This Designer Gave His Bedroom a Colorful, Custom Makeover
It can feel limiting to furnish and decorate a rental apartment, especially if you're concerned about moving or losing part of your security deposit. But designer Anthony Gianacakos's colorful, pattern-packed bedroom makeover proves it's possible to achieve a custom look in a rental. As a guest participant in the One Room Challenge—a biannual event in which 20 designers are selected to transform one space in a certain time period—the New York City-based designer finally decided to invest in his own bedroom.
"I wanted a space just like those I create for my clients," Gianacakos says. "I've always been doing stuff on the cheap because I'm an entrepreneur in New York City and don't have a free-flowing budget," he continues. "I was like, you know what, it's time to invest in some great pieces and really create a beautiful bedroom that I deserve." Now that's the kind of self-care we can get behind!
During the eight-week makeover, Gianacakos was met with an additional challenge: unexpectedly switching apartments within the same Washington Heights building. When the two-bedroom place next to his one-bedroom apartment became available, he jumped at the extra space. After six weeks of living in the street-side apartment, though, he decided the extra room wasn't worth it compared to the high noise level. Luckily, right before wallpapering the bedroom, he was able to move back into his much-quieter original place where he finished the bedroom design.
A color and pattern-loving designer, Gianacakos chose a turmeric yellow paired with teals. "It's such a great color combo—one I don't see being done that often," he says. "I really wanted to explore that color palette and play with textures and shapes."
Installing the yellow patterned wallpaper was crucial not only for the color palette but because it's one of Gianacakos's own wallpaper designs set to be released in the fall—making this the first time he's ever been able to have his own wallpaper in his home. Gianacakos also designs fabrics, one of which covers the bolster and armchair and will be released later this year, too. The pattern is a bighorn sheep in an abstract form that was influenced by a project he recently completed in Montana.
For the teals, Gianacakos included a Mitchell Gold + Bob Williams platform bed with Julian Chichester nightstands. Large ceramic side lamps with a speckled glaze by Kelly Wearstler for Circa Lighting add angular contrast against the backdrop of the wallpaper.
Much of Gianacakos's work is inspired by travel and his love of animals, so his bedroom naturally incorporates those elements. At the heart of the room's decor is a photo of a bison at Yellowstone by Jonathan Z Lee. "The power and strength of the bison looking at you, it almost looks like it's ready to attack," Gianacakos says. "I wanted that to be the anchor point for all of the artwork." Other wall art featuring goats, birds, and abstract designs by Alison Causer, Ryan Turner, and Danny Noval Wildlife Photography complement the bison piece.
"I finally feel like I have a luxury, cozy, comfortable space in a New York City apartment," Gianacakos gushes. "Rental apartments can be scary to put your stamp on, but I encourage anyone renting one to still make it feel like your forever home." Even if you need to put in the legwork to get approval from your building, it's worth it!
---
Follow House Beautiful on Instagram.
This content is created and maintained by a third party, and imported onto this page to help users provide their email addresses. You may be able to find more information about this and similar content at piano.io