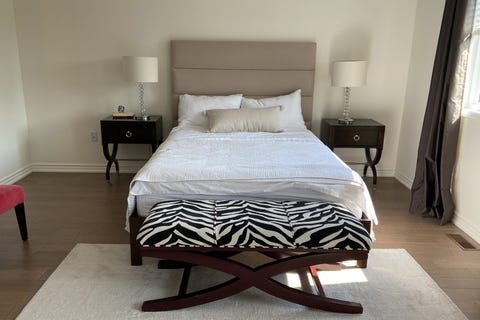 This Designer's Bedroom Makeover Was Made for the Whole Family
The bedroom is arguably the most important room in a home: A good one has the power to start our days off on the right foot, but a poorly designed one can do just the opposite. So when Canada-based designer Diane Ernjakovic of One Three Design Inc. got the chance to redesign a room as part of the One Room Challenge—a biannual event in which 20 designers are selected to transform one space—she couldn't resist giving her disordered sleeping quarters a serious upgrade.
"The room was a graveyard of old furniture and kids toys and, as a designer, it was definitely not reflecting my abilities," Ernjakovic tells House Beautiful. "I wanted to create an environment that made the family, who all use this space, fall in love with all aspects of this room."
Using the existing bed and dresser as a starting point, Ernjakovic created a grounding focal point to introduce visual interest in the room without shelling out a fortune on yards of wallpaper and unique artwork. "Being very much into curves and arches lately, I brought in some new elements and refurbished some old ones," Ernjakovic says.
Behind the bed, there's now a painted arch—an easy, affordable DIY made using a pencil, string, pin, and Seashell paint by Benjamin Moore. The clashing zebra-print bench was sanded, stained with a light wood color, and reupholstered with a moss green Kravet fabric by Moonstone Interiors. Instead of installing one large rug underneath the bed, two runners from Wayfair flank it; placing a larger rug out in front of the bed was a conscious choice to make vacuuming dust a breeze. Other additions include a ceiling pendant and table lamps from Circa Lighting, all supplied by Lumina Sales.
In addition to offering visual clarity, the streamlined design also gave the massive room a series of functional zones. A chair and floor lamp from Structube and a ladder from Etsy's Trouvaille Decor create a cozy reading nook for quiet relaxation; near the bathroom, a console acts as a pre-bath drop zone for clothing and other small items; and a corner near the closet is outfitted with a dresser, Wayfair mirror, and IKEA hooks for the ultimate wardrobe planning station.
Now, whether it involves reading, sleeping, or playing with her daughters on the floor, Ernjakovic's once chaotic bedroom is a relaxing oasis the whole family can enjoy.
---
You love beautiful homes. So do we. Let's obsess over them together.
---
Follow House Beautiful on Instagram.
This content is created and maintained by a third party, and imported onto this page to help users provide their email addresses. You may be able to find more information about this and similar content at piano.io