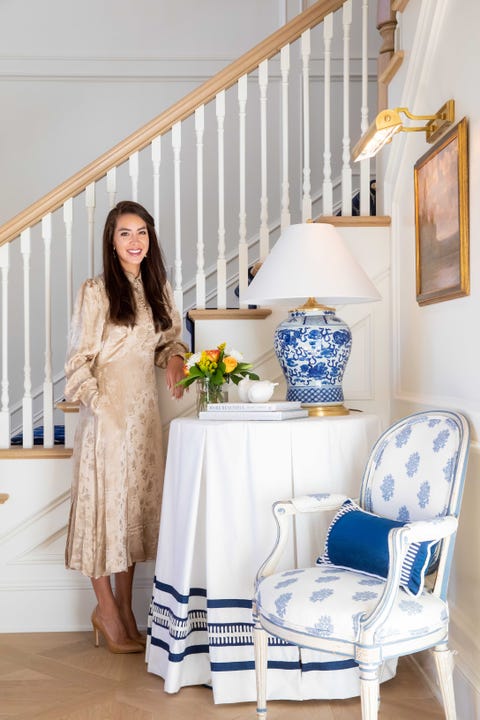 This Fox Group-Designed Salt Lake City Home Boasts a Stylish Subterranean Basketball Court
When you think of a laundry room, what do you picture? A dark, oversized closet, maybe—with a slop sink, if you're lucky? Husband-and-wife design duo Cara and Tom Fox, founders of The Fox Group, won't tolerate such a boring space. You will never find a room that is not both functional and beautiful in any of the homes they have touched.
So in a recent project for a Salt Lake City family, Cara Fox fashioned a laundry room that is equal parts elegant and practical. "The client is not afraid to be girly and be who she is," Fox says. To that end, the room boasts floral wallpaper from Schumacher, pink- and white-striped penny-tiled floors, and a giant, custom-made, marble-topped pink table from Christopher Scott Cabinetry. As for function: there is an oversized farmhouse sink with a Carrara marble backsplash, plus plenty of cabinetry.
Thanks to Fox's impeccable attention to detail, it's not just the sunlit laundry room that received special favor. In the kitchen, for example, Fox wanted to highlight the unique, floor-to-ceiling slabs of Calacatta Gold marble that adorned the walls. Rather than cover them up with cabinets, she moved most of the storage into a sleek butler's pantry tucked in a corridor behind the main cooking area. To boot, she created a large custom piece to camouflage the fridge and other kitchen fixtures such as the toaster and stand mixer. "I call that the appliance center," she says. "It's super functional, but very cleverly hidden."
The family, which loves to host events large and small, tapped Fox to revamp several entertaining spaces in the 8,000-square-foot sprawl. That includes the formal dining room, which has custom storage built into either side of the fireplace and houses the client's substantial collection of china and silverware. Thoughtful touches make the cabinets more than just a grouping of shelves and drawers. Fox chose a breakfront design to make the pieces more in-line with the abode's classic Dutch colonial exterior, and also added details like carved flowers that match the gold pulls. An ethereal mural by local artist Tyler Huntzinger brings in more nature with images of sycamore, oak, and juniper trees that are native to.
As sophisticated as the residence is, it houses four kids—so Fox ensured its interior would appeal to the little ones, too. To wit: one of the girl's bedrooms, straight out of an English garden with Schumacher floral print wallpaper and white lattice detailing, features a custom-built, alcove bed and creative cabinetry and shelves that have room for everything from toys to shoes. "The room feels like one cohesive space," Fox says. "You don't really realize, 'Oh, that's the closet right there, and there's the shoe storage.'"
If there's one space in the home that perfectly combines a grownup appreciation for high design with children's high energy, it's the subterranean basketball court. "We thought, 'Let's make this floor beautiful,'" Fox says. The result: A white oak, herringbone-patterned court. Unique? Certainly. But more importantly:the kids approve.
---
Kitchen
"We were inspired by English desk cabinetry and made these a specific size for everyday dishes and cups," Fox says of the cabinets on either side of the range. Range: L'Atelier with a custom burled walnut hood designed by The Fox Group. Sconces: Julie Neill Lighting. Walls: Calacatta Gold marble. Brass pendant lights: Ralph Lauren with a custom shade of Schumacher fabric. Faucet: Waterstone. Sink: Shaws.
---
Music Room
"I think the stars of this room are the built-in cabinets. They have a true barrel arch inside the shelving," Fox says. The piano is an heirloom from the client's grandmother. Fireplace tiles: Delftiles. Built-ins: Christopher Scott Cabinetry. Couch: Client's own, reupholstered in Schumacher fabric. Slipper chairs: Oomph. Coffee table: Oomph. Chandelier: Perigold. Lattice wall: Made out of custom hand-cut, diamond-shaped boxes.
---
Dining Room
The mural here, painted by Tyler Huntzinger, features Utah landscapes that the clients love, from seas of trees to mountain scenes. The local artist also painted 24-karat gold detailing on the floor and ceiling. Built-ins and dining table: Custom by Christopher Scott Cabinetry. Chairs: Client's own, upholstered in Schumacher fabric.
---
Living Room
"We knew we wanted this room to have a 'wow' factor with the double-story windows looking out onto the pool," Fox says. "But we softened the look with the drapes." Curtains: Schumacher fabric. Plants: Sourced by EBW Design. Chandelier: Ralph Lauren. Fireplace: Made of blue-cast limestone. TV: Samsung, with a custom gold frame. Couch: Client's own, upholstered in Schumacher fabric. Armchairs: Client's own, upholstered in Sister Parish fabric.
---
Primary Bathroom
The posh primary bathroom showcases white wainscoting and custom-built vanities. Bathtub: Waterworks. Vanities: Custom-designed by The Fox Group. Mirrors: The Fox Shop.
---
Primary Bedroom
For the master bedroom, "we wanted to bring in that garden feel," Fox says. "The flowers, the butterflies, the birds, and all the open light." Wallpaper: Schumacher. Curtains: Schumacher. Chairs: Client's own, reupholstered in Schumacher fabric. Bed: Custom-made by The Fox Group. Bed linens: Matouk. Wicker vase: Mainly Baskets Home. Flooring: Herringbone white oak.
---
Powder Room
Although the clients live in Salt Lake City, they love the East Coast. For the office's powder room, Fox used a preppy, nautical print to evoke that region of the U.S. Vanity: Waterworks. Mirror: The Fox Shop. Sconces: Visual Comfort. Wallpaper: Schumacher.
---
Laundry Room
This area is unabashedly girly. "The client is not afraid to be who she is," Fox says. Wallpaper: Schumacher. Sink: Shaws. Table: Custom by Christopher Scott Cabinetry.
---
Girls' Bathroom
The two girls share this bathroom, which they dubbed a "Jill and Jill." Bathtub: Vintage Tub & Bath, with a custom color. Tile: Carrara marble. Paintings: Vintage.
---
Basketball Court
The stylish basketball court bolsters the home's design game with a cool herringbone pattern. Flooring: White oak.
---
Dollhouse
The dollhouse is enormous – five feet tall! – and an exact replica of the real house, having been constructed from the same materials.
---
Butler's Pantry
The butler's pantry features the same fabric that Jackie Kennedy used when she renovated The White House. Curtain fabric: Schumacher. Floor tiles: Carrara and Bardiglio marble. Drawer pulls: Custom in 24-karat gold. Sink: Shaws.
---
Girl's Room
"We wanted this room to feel like a secret garden," Fox says. Built-in bed and cabinets: Custom-designed by The Fox Group. Wallpaper: Schumacher. Pouf: Custom-made by Lee Industries. Bed linens: Matouk.
---
Follow House Beautiful on Instagram.
This content is created and maintained by a third party, and imported onto this page to help users provide their email addresses. You may be able to find more information about this and similar content at piano.io