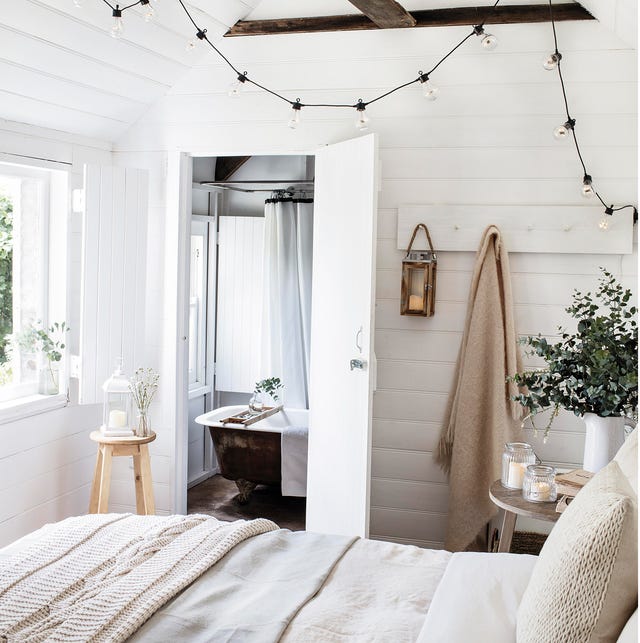 White Bedrooms | 13 White Bedroom Ideas to Inspire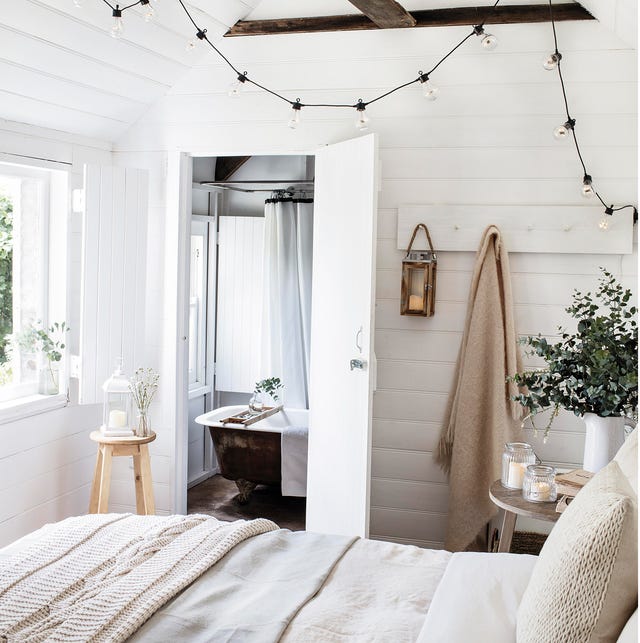 Lights4fun, Cox & Cox, Poster Store
The ultimate in neutral decorating, white is one of the most popular colours in interior design, and totally unbeatable as a base tone in a bedroom. Blocks of white can be used on walls and floors to let colourful accessories sing, it can be offset with silvery greys and matt blacks for something sleek and modern, or paired with raw wood and natural materials in a country cottage. The versatility of a white bedroom is unmatched.
A white bedroom doesn't necessarily mean plain, whilst a white-on-white Scandinavian design formula might err on the side of minimal, white can be a base for something highly decorative – when paired with an array of cheerful pastels, a white bedroom is far from understated.
In terms of complementary colour combinations and design styles, rules are fairly thin on the ground. However, your choice of white furniture may require a bit more thought. A much-maligned feature for parents and pet owners alike, white upholstery is notoriously difficult to keep clean, and it would be wise to avoid it when purchasing a bed – a classic wood or coloured upholstery is a safer bet.
Finding inspiration from some of our favourite brands and retailers, from The White Company to Dreams, if you're considering a bedroom makeover in the near future, read on for 13 ways to decorate with white…
Advertisement – Continue Reading Below
1
White bedroom ideas: wooden cladding
Whitewashed wood is a classic beach house material, which gives this white bedroom an unmistakeable holiday home feel. A great technique to use in a bedroom, whitewashing brightens the look of wood surfaces without covering any natural grain, creating the quintessential light and natural look common in coastal homes.
Pictured: Festoon lights at Lights4fun
2
White bedroom ideas: white and grey
Always a safe choice for a restful bedroom. Soft greys are so often paired with black metals or silvery metallics, but this neutral scheme uses softer pale woods instead. We love the woven seagrass detailing in the rug and bedside table too.
Pictured: Richmond Wool Bed at The White Company
3
White bedroom ideas: canopy bed
Belying a common design assumption that canopy beds are for traditional settings only, this version from Cox & Cox forgoes heavy curtains or voile covering, leaving an exposed iron frame that stands in wonderful contrast to an all-white bedroom.
Pictured: Luna Canopy Kingsize Bed at Cox & Cox
4
White bedroom ideas: gallery wall
Gallery walls work most effectively when they're fairly full with an eclectic mix of styles, but in a white bedroom, this might appear overwhelming. You can offset some of the busyness by choosing calming neutral tones and slim frames in paler woods.
Pictured: Gallery wall selection at Poster Store
5
White bedroom ideas: modern meets traditional
This bedroom is a masterclass in introducing cool, contemporary tones in a traditional setting, mixing silvery greys and fresh whites with more traditional features like the panelled wall and an antiqued chandelier. This is ideal for those who need total calm in their environment to get a good night's sleep.
Pictured: Litcham Ottoman Bed at DFS
6
White bedroom ideas: tropical styling
We love the tropical styling in this white bedroom. A similar look can be achieved by using the lightest white voile curtain on a wooden four poster bed – here, a single piece of fabric is draped and knotted at each end.
Pictured: Wonder Palm Bed Linen Set at The French Bedroom Company
7
White bedroom ideas: Scandinavian-inspired
This serene bedroom has strong Scandinavian influences in the pale wood walls, white-on-white colour palette, and accents of nature. If you want to create something similar, make sure you use lots of textiles and soft furnishings to soften and add warmth.
Pictured: Melbury Linen Bed at The White Company
8
White bedroom ideas: white and pastels
If you like a pops of colour in your white bedroom, go for pastels. They all have matching white undertones, so a myriad of chalky pastel shades will always sit happily together. This is a great way to add colour without detracting from the airy and bright feel of a bedroom.
Pictured: House Beautiful Maisy Bed at Dreams
9
White bedroom ideas: cosy up
All-white bedrooms do have a tendency to appear overly clinical and stark. Warming elements can be introduced to mitigate this – here it is the dark wood shelves, super soft bedlinen, and most importantly, the decorative string lights.
Pictured: Cosy home indoor light collection at Lights4Fun
10
White bedroom ideas: white on white
If you want to create an all-white bedroom, but don't want anything too contemporary, try adding country influences. A wrought iron bed frame, embroidered bedlinen, wooden floors, and antique or painted furniture won't steer you far wrong.
Pictured: Country Living Embroidered Bedding Set at Homebase
11
White bedroom ideas: paint techniques
This fabulous painted headboard effect is super easy to recreate in your own home. In a white bedroom, we'd recommend using softer tones – a chalky blue, sage green, or buttercup yellow would work a treat. We love the sweet mini shelf too, proof that sometimes only the simplest of decoration is needed.
Pictured: Tufted Leaf Duvet Set at Next
12
White bedroom ideas: pop of colour
Pops of colour are an effective zoning device for larger bedrooms, and doubly so in white bedrooms where the contrast is magnified. Here, there is an interesting mix of natural materials – the rattan accessories and those stunning wooden beams – paired with an electric and contemporary blue feature wall.
Pictured: Colby Ottoman Storage Bed, and all accessories at Habitat
13
White bedroom ideas: bohemian
Bohemian styles can become cluttered and mismatched, but this light and airy bedroom executes it perfectly. To replicate the look in your own home, keep your walls white and furniture neutral, and build interest with a heavy pattern (a paisley or ikat would work,) in your soft furnishings.
Pictured: Round Cane Headboard and all accessories at Dunelm
Follow House Beautiful on Instagram.
This content is created and maintained by a third party, and imported onto this page to help users provide their email addresses. You may be able to find more information about this and similar content at piano.io
Advertisement – Continue Reading Below

https://www.housebeautiful.com/uk/decorate/bedroom/g40074376/white-bedroom-ideas/